A service dog serves a great purpose after a major life event. Many use trained service dogs and emotional support animals for everyday tasks. They significantly improve the quality of life for an individual with a disability. 
Here, we cover service dogs and how California state and federal law affects them. These laws determine what protections extend to both the owners and the animals.
Let's get started.
Overview of the Service Dog Laws in California
Below you'll find national and California service dog acts.
Service Dog Defined
Let us start with the basics. What is a service dog? While we have all heard the term, we may not be familiar with the specifications. Specific rules differentiate a service dog from an emotional support dog or a pet. 
According to California service dog laws, a service dog is a canine trained to perform tasks or do work for someone with a disability, such as a dog trained for pulling a wheelchair. They can undergo training either with the person with a disability who will use the dog or a third-party entity (e.g., a non-profit or private trainer). Many people who use service dogs do so after a major life change.
One thing to note is that the Americans with Disabilities Act (ADA) also has some provisions for miniature horses, and therefore, California does too.
What About Emotional Support Animals?
A service dog performs a task directly related to the disability that the person has. In other words, dogs providing general emotional support with no other function do not qualify. 
People confuse service animals with emotional support animals, but these are two completely different classifications.
Where Are Service Dogs Allowed?
California law allows your service dog to go to any public place where people can go. These protections have the backing of federal law.
The Americans with Disabilities Act is the most comprehensive federal law in the United States, ensuring disabled people's protection. It mandates that businesses cannot turn them or their dogs away from areas where the general public is invited. The dog must have the training to behave in any general public place. The latter is a requirement regardless of registration.
This stance accounts for most public places. Some policies may prohibit access to certain public places, such as places that sell or prepare food. However, this is rare. Most health codes that prohibit animals in public places do not apply to service dogs to protect the rights of the handler. A customer's guide dog must receive the same disability rights as the owner.
What Are the ADA Service Animal Rules for Businesses?
If a business is unsure about the task a service dog is individually trained to provide, they cannot ask the individual with a disability questions about their disability or demand a demonstration of the task. 
Businesses can only ask the following two questions:
Is this dog required because of a disability?
What task or work has the dog trained to do?
Suppose a business asks the person any other questions about their disability or the dog. In that case, the business may face legal ramifications that can include a fine of up to $2,500.
Conversely, if someone pretends to be the owner of a service dog when their dog does not perform any tasks for them, it is a criminal misdemeanor that may include a fine. 
Additionally, owners of public businesses cannot treat people with a guide dog differently from their other patrons. People with service animals should not receive less favorable treatment or isolation from everyone else in restaurants, hotels, or any similar environment. 
Business owners also cannot charge a fee to allow the dog on the premises. Even if the company typically charges people without disabilities to bring their pets, they cannot charge extra to those with disabilities to bring their service animal. 
Is Identification Necessary to Go Out in Public?
You are not under obligation by federal or California law to exhibit identification or service dog registration.
However, registration documentation ensures that the person faces fewer questions and mitigates potential issues. It also clarifies that the animal is not a pet, so passersby should leave the animal to do the task it is individually trained to perform. 
Where Can Emotional Support Dogs Go in Public?
Service dogs and emotional support dogs cannot always go to the same places. While a person with a California service dog can go anywhere the public is welcome, the same protections do not apply to a person with an emotional support animal.
However, an emotional support animal still has some protections. For instance, landlords may have to make exceptions for emotional support animals. Some rules may require an employer to allow an emotional support dog to work.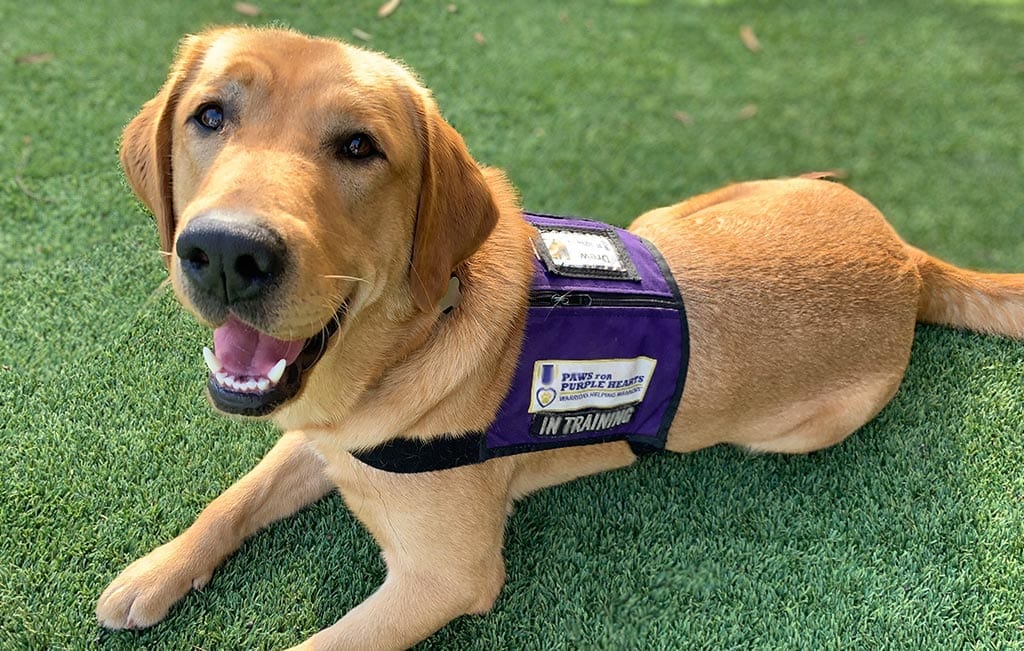 Can a Business or Landlord Ask the Disabled Person or Their Dog to Leave?
There are only two reasons someone can ask a person to remove their assistance dog: either the canine is out of control or is not housebroken. 
A business cannot ask to remove an emotional support dog because someone else is afraid of the animal or has an allergy.
For example, suppose a student in a high school class needs to own a service dog, but someone else has a canine allergy. The administration should move the students to different classes with the same material, if possible. 
How California Protects Service Dogs in Public Areas
California follows the ADA and all federal laws regarding service dogs. The state also has additional laws that garner even greater protections for people with disabilities in the state. 
In California state law, public places must change their practices if necessary to provide accommodations. These places must also allow someone training a service dog to bring the canine in, even if the trainer does not have a disability that requires the dog's use. 
As you read about these California laws, remember they do not apply to emotional support animals in the same way. Vital legislation to review includes the Unruh Civil Rights Act, the California DFEH policy, and the Employment and Housing Act.
The California Department of Fair Employment and Housing
California law allows assistance animals certain protections under the California Department of Fair Employment and Housing (DFEH) guidance. Aside from enforcing California law, it is also the most prominent civil rights agency in the United States. 
Initially, California enacted civil rights laws prohibiting employment and housing discrimination. The protected classes eventually extended to a person with a disability. The government consolidated California laws under the California DFEH in 1980. 
The Disabled Persons Act
The California Disabled Persons Act in California state law contains explicit protections for people with disabilities. 
Anyone with disabilities has the same rights as those without disabilities to access public amenities without paying extra fees.
The California law also states landlords cannot deny equal access to housing to someone with a disability and their assistance animal. 
Additionally, landlords cannot deny access to housing for tenants with a support animal, even if it is a no-pet property. 
What Disabilities Qualify a Person to Use a Service Dog?
Both physical and mental disabilities can be qualifying factors. 
California defines disability more broadly than the ADA. It states a disability is a mental or physical impairment that limits a significant life activity. The ADA uses the phrasing "substantially limits" when speaking about significant life activities.
Physical Disabilities
Physical disabilities that allow for the use of a service dog may include but are not limited to:
Blindness
Deafness
Multiple Sclerosis
Seizures
Arthritis
Emotional or Mental Health
Examples of qualifying mental disabilities or mental illness that a psychiatric service dog is trained to perform include:
Post-Traumatic Stress Disorder
Depression
Bipolar Disorder
Many more conditions qualify for psychiatric service dogs or general service dog usage. The Americans with Disabilities Act (ADA) does not attempt to create a complete list of qualifying disabilities for psychiatric service dogs because each person's situation is unique. This flexibility allows many people to qualify for trained service dogs. 
If you feel that a service dog would help, speak to your physician to advise you on the next steps. 
Is Qualification Automatic?
Merely having one of the above disabilities does not automatically qualify you for a physical or psychiatric service dog. According to California law, you must also speak to a medical professional to confirm that a trained dog could support your disability. An assessment can prove your dog is a service dog or your animal is a service animal.
Conclusion
While trained assistance dogs do not instantly solve someone's problems, they can significantly improve the lives of many people with disabilities following a major life event.
Whether you need help pulling a wheelchair or taking medication, a service animal could change your life. Service and emotional support animals are incredible and are much more than just pets.