Service Dog Registration Of America
Product Description
Please use the sizing chart below to determine the right size for your dog.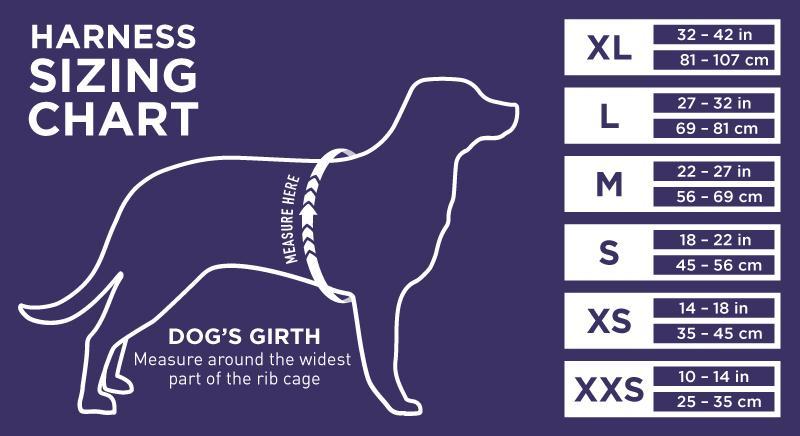 Ultimate Service Dog Lifetime VIP Kit includes:
Listing In Our Database
FREE Replacement IDs for life!**
Free Embroidery! You must fill out the custom text box with your dog's name in order for your harness to be embroidered. If you do not fill out the custom text box your harness will not be embroidered.
Two (2) PVC ID's (ID's are made with the handler's and animal's name along with the photograph that is submitted at registration. The handler, animal's name and photograph cannot be changed after the order has been submitted. Please refer to your registration under the "My Account" tab. If you need your name corrected, or want your photograph changed please email support@servicedogregistration.org before placing your order with your request. Once you submit your order, changes cannot be made to your ID or certificate).
Service Dog Vest/Harness with Complimentary Embroidering
Three (3) mini PVC IDs
Official Eco Friendly Paperless Certificate (Electronic Download Available Immediately in Order Confirmation. **You will not receive a hard copy of the certificate**)
Free Shipping
This order is non-refundable due to the customization. No Exceptions.
Harness is waterproof/weatherproof
NOTE: Please refer to the Harness Sizing Chart before selecting your size harness. A re-shipping fee will apply to all exchanges.
**Free Replacement IDs will be for the life of your animal. Limit three per customer per year.
** Limited Time Bonus **
Survival Guide eBook (Download Available Immediately. ** You will not be receiving a hard copy of the book**)
Round Service Dog Patch
Please note prior to purchasing that this product is Non-refundable. Once tracking information has been created for an order, the order is not eligible for cancellation. Any items that are customized are not able to be eligible for return, exchange, or cancellation.
Embroidery
Customize your Service Dog vest with your dog's name embroidered using the best machine on the planet. Lifetime guarantee on your embroidery! Please Note: Monogramming may take an additional 5-7 days and excludes Express Orders. We are unable to accept any returns on embroidered items. Text will appear exactly as you type it.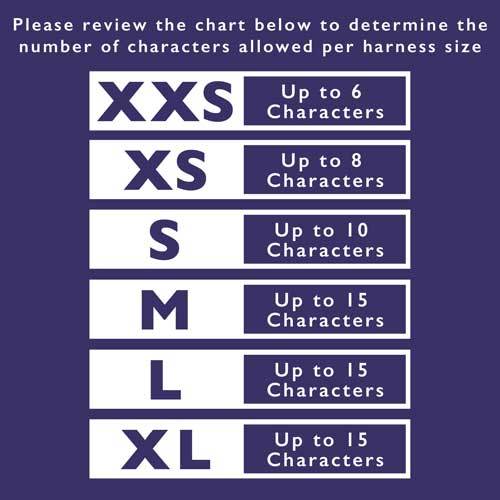 This comprehensive package includes two service dog ID cards, a vest/harness, three mini ID cards, and eco-friendly paperless certificate, a waterproof harness, FREE replacement IDs for the entire life of your service animal (limit three per customer per year), and of course, listing in our comprehensive database.
The harness, leash, and ID tags clearly identify your dog as a service animal, fully trained to provide you with a number of services you are legally entitled to. Free custom embroidery is also included on the harness (be sure to fill out the custom text box when purchasing this item).
Because we're so passionate about providing the best support to people with service dogs, we're also including a free, downloadable survival guide e-book and round service dog patch. This is by far our most popular and economical package, so be sure to take advantage of the offer.
As you probably already know, there is a huge disconnect between you, and what society at large believes about service dogs. You've already put in work, time, and money to get the support you need, now make sure that you and your service dog can operate freely and comfortably when traveling or out in public.
Shipping Policy
All our orders are shipped USPS domestic mail. We do not offer international shipping. Our standard free shipping option for non-embroidered items will take 5-7 business days for delivery excluding weekend days and holidays. Embroidered items can take anywhere from 10-14 business days for delivery.
*Priority Mail Delivery - Delivery within 2-3 business days* for only $10.00. Please note if this method is selected and your order contains Embroidery the order can take up to 2 business days for processing before it leaves our warehouse.
**Rush Processing/Overnight Shipping is available if needed for only $49.50 and you could have your package in as little as 24-48 hours. This method of shipment is sent with USPS Express Mail. You will be able to add this option when you complete your order. * Orders placed after 9am may not go out the same day and will be shipped the following business day.
*Priority Mail remains a non-guaranteed service. The Postal Service does not provide a money-back guarantee if items sent via Priority Mail fail to arrive by the scheduled delivery date.
** Certain zip codes do not offer overnight service in which case you may receive your express order on the 2nd day. If it is absolutely necessary that you receive it next day, please email us at support@servicedogregistration.org to make sure your zip code can receive overnight shipping.
Ultimate Service Dog Lifetime VIP Kit